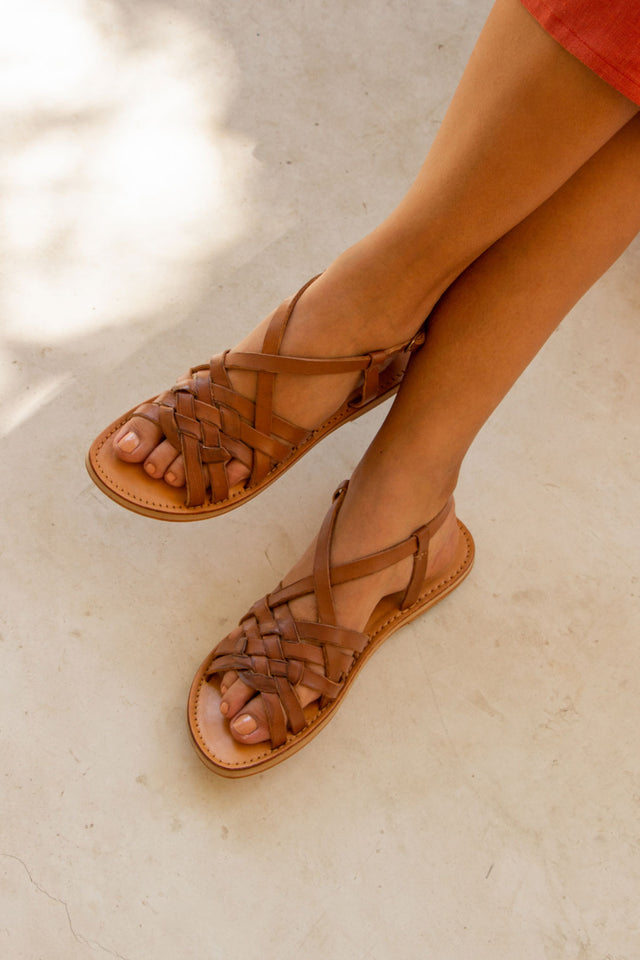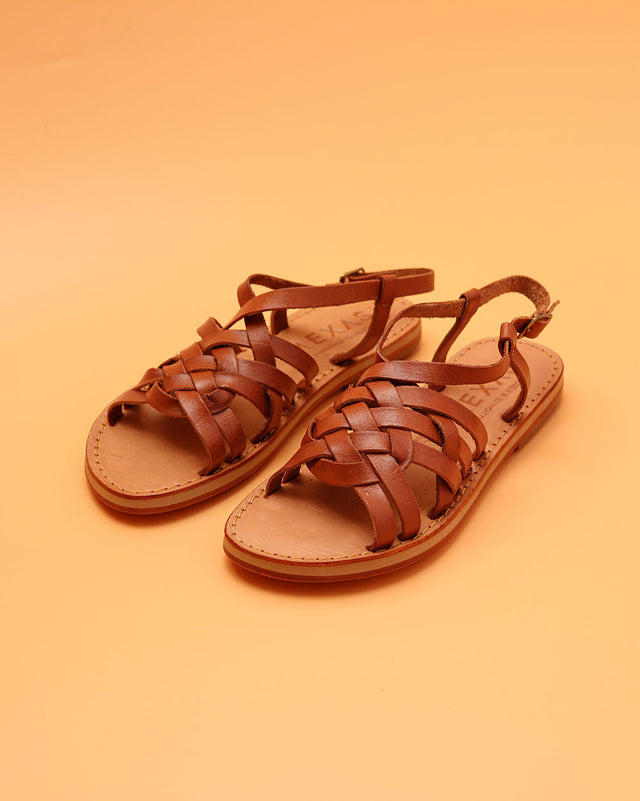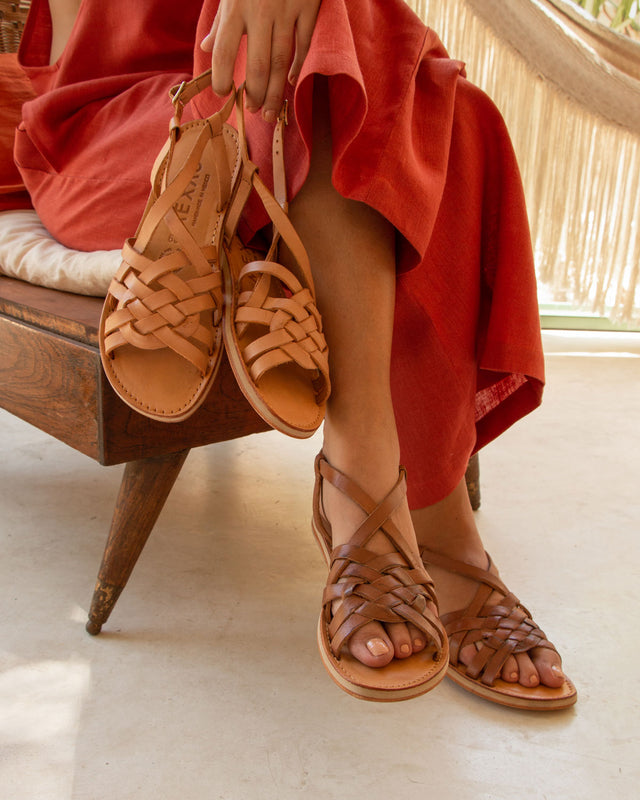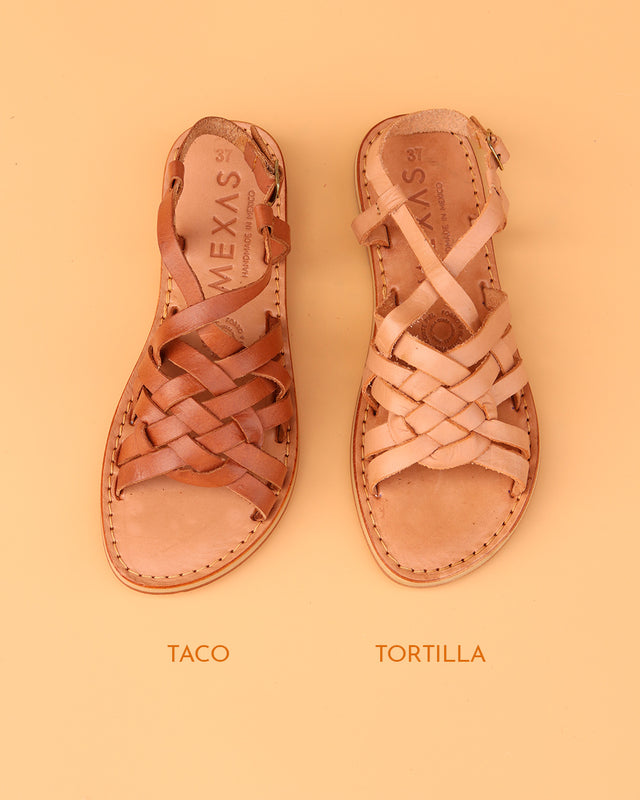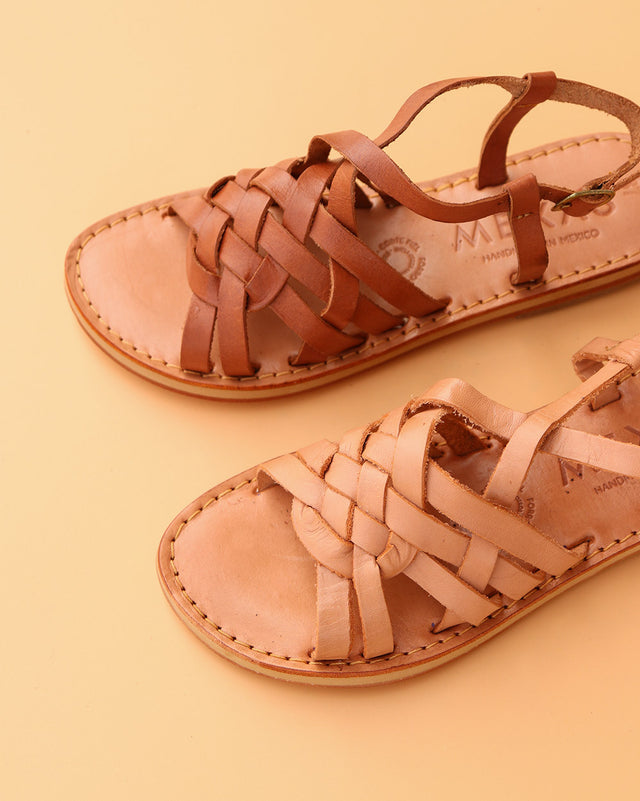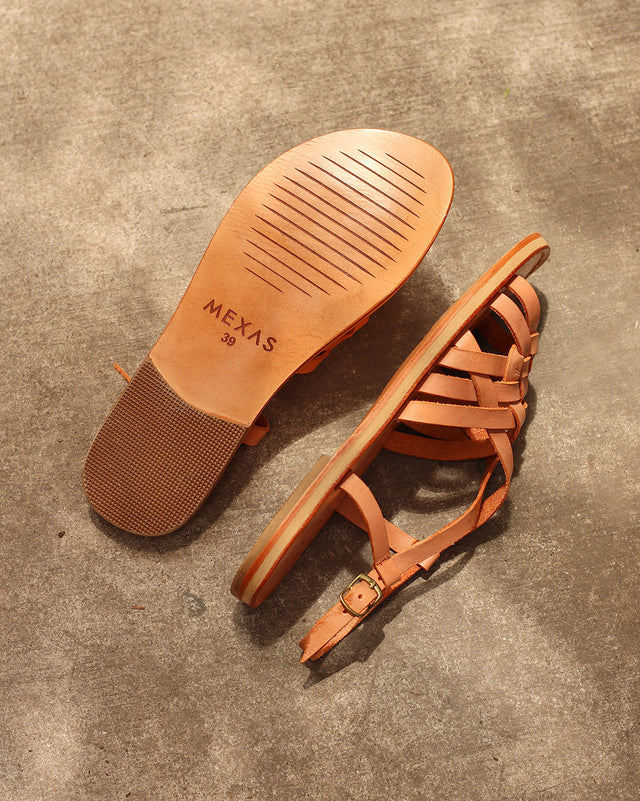 Pastor taco, basket taco, carnitas taco and... here is the MEXAS Taco! 🌮
I (Jess) always test all the models the year before the launch and I promise you that this sandal I did not take it off all summer. I took it to the beach, on a trip, to go out to a party and I confirm that it is an all-terrain sandal.
Comfortable, very comfortable.
We have changed the rubber sole for a leather sole, which in addition to being prettier than the white one, is lighter and more durable.
The TORTILLA model is the lightest version of this leather sandal that will look great on you if you wear a tan. If you have a light skin tone and prefer a darker sandal then we recommend the TACO model.

Choose your usual size.

Of course, it is better that you tighten the strips at the beginning because it ends up giving in a lot.
Any questions you know, write us by chat or instagram!
Size guide
We recommend that you choose your usual size. If they are tight for the first few days, it is always better since, being made of skin, over time they end up giving way.
You can also consult our Size Guide where you will find the measurements of each model to be able to compare it with your foot.
Composition, care and origin
Composition
Chemical free vegetable tanned cowhide.
Over time the skin of the MEXAS changes color, a sign that it is 100% natural. She gets old and "browns" just like us when the sun hits us :)
Care
You can clean them with a damp cloth, being careful not to get too wet as they darken.
Origin
Designed in Spain, made 100% by hand in Mexico. All the raw material we use comes from Mexico.
Returns & Exchanges
Shipping
Our warehouse is in Madrid and is open from Monday to Friday. All orders placed before 3:00 p.m. are shipped on the same day.
Delivery times:
Peninsula: 48/72 hours.
Balearic Islands: 4-5 days
Canary Islands and European Union: 5-7 days
*Delivery times may suffer delays in periods of high demand (Mother's Day, Flash Sale, Restock, etc.)
Four curiosities about MEXAS
100% handmade
Our huaraches are 100% handmade in Mexico following a traditional process with more than 500 years of history.
Chemical free natural leather
The leather we use is vegetable tanned and chemical free. Over time the skin of the MEXAS changes color, a sign that it is 100% natural.
They adapt to your foot
As they are made of leather, they give way and adapt to your foot and its shape. They are very soft and flexible.
Social impact
We donate part of the profit from each sale to an NGO called "Mujeres Aliadas" that is in Michoacán, the area where we produce.